May 20, 2018
Posted by:

Simon Wait

Category:

Featured News
IBIS headed to Dublin in May for IBIS Ireland 2018 which saw the key influencers of the regional collision industry, and beyond, gather to network and discuss the latest happenings within the local market. Here, we provide an insight into the event as it unfolded.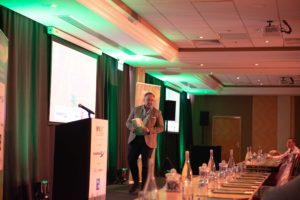 Jason Moseley, CEO of IBIS, opened IBIS Ireland 2018 by reiterating the three key pillars of IBIS – safety, skills and standards.
Addressing an audience of over 100 delegates, Jason spoke of how IBIS acts as a catalyst in bringing key local stakeholders together. Jason said, 'Since we were here last year the IBIS brand has been around the world – and what we are doing today is combining that global experience with local market knowledge.
'There are three things we would like you to take away from IBIS Ireland 2018: knowledge and new connections; an understanding of others' viewpoints; and use IBIS as a catalyst for change.'
The Irish automotive collision repair industry:
Circa 800 repairers
Circa 2.5 million registered vehicles
An average of 72,000 insurance claims pa
Average cost of repair circa €523.40
Overall market value estimate €56.5m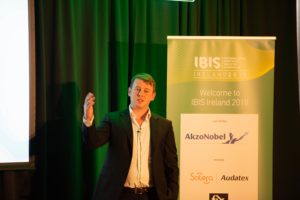 Barry Sheehan, PhD researcher, Limerick University told IBIS Ireland 2018 delegates that autonomous driving vehicles are coming – like it or not.
Barry pointed at how there has been much attention given to the development of autonomous vehicles but little focus on the actual risks they pose – the greatest risk to the development of autonomous vehicles, according to Barry, being malicious hackers.
With 250 million connected cars predicted by 2020 cyber risk will increase and Barry pointed to figures suggesting that cyber risk is estimated to generate up to $12bn in new premiums in 2025. In closing, Barry suggested his key takeaways are the need for standards, vulnerability thresholds, collaboration – 'closer collaboration between insurers and manufacturers' – and proactive risk assessments.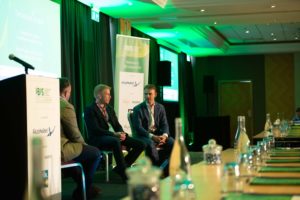 The big story to emerge from IBIS Ireland 2018 (see below) was the announcement that Fix Auto and Novus Auto Glass are set to enter the Irish market.
The news was delivered during the session 'The business of repair' which saw Roy de Lange, head of business, Fix Auto Deutschland GmbH share the views of global collision repair network, alongside Frank Byrnes, owner, Frank Byrnes Autobody Repair – a leading, local independent repair operation.
Frank emphasised how the Irish market has evolved greatly in the past 18 months, which has highlighted the necessity for the right 'mix' of work – specific to the bodyshop business.
In discussing the role of vehicle manufacturers within the market, Frank suggested he saw it as becoming increasingly critical whilst Roy pointed at how Fix Auto has a firm belief that repair segmentation will be crucial for future success.
In rounding out the session, both Frank and Roy agreed that the ability to adapt and change is a key credential for the future.
An exclusive


IBIS Ireland 2018 saw Fix Auto World formally announce its plans to develop a comprehensive aftermarket services solution in Ireland across its two franchise network brands, Fix Auto and NOVUS Glass.

Operations for both brands will be led by market operations director for Fix Auto and NOVUS Ireland, Jonathan Penny, in partnership with network director, Denis Dineen.

David Lingham, head of business for Fix Auto World said, 'The Irish aftermarket space understands the need for consolidation and seems to be ready to embrace a service offering like ours. We are pleased to bring our proven business model to Ireland and to do so by integrating both our bodyshop and glass brands from the very start.'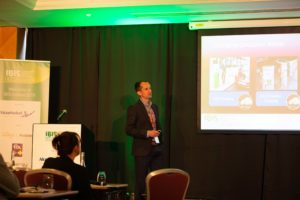 David O'Connor, head of aftersales, KIA Motors Ireland told IBIS Ireland 2018 delegates that in the next 18 months 'the supply of electric vehicles is set to explode'.
In his session 'open your mind to change' David pointed to how the total automotive market will be valued at $7.8tn by 2030 with established vehicle manufacturer brands' share of that overall value decreasing from circa 70% in 2015 to around 40% by that time. He referenced brands such as Dyson, iCar and Uber as being challenger brands likely to absorb 60% of the marketshare. A key change in the make-up of the market value will be digital services making up 20% of the value and shared moblity a further four per cent whilst vehicle sales values will reduce from 41% to 29%.
Aftersales is another area expected to decrease in total market value terms from 16% in 2015 to 10% in 2030 – 'filling the aftersales gap is a real concern at European and global level – and that is a huge challenge for dealerships too' said David.
In closing the session, David commented, 'How much change will we see and when? Who knows. But we need to be prepared for change.'
During a panel discussion at IBIS Ireland 2018 focusing on the industry skills gap it was claimed the industry 'forgot the future' with regards to developing future generations.
The session featuring Colin Hagan MBE, managing director, Riverpark Training and Development (NI) Ltd; Michael Massey, vehicle paint and refinishing technician, Alton Cars Ltd; and Dave Reece, Ford collision project manager saw the panel debate t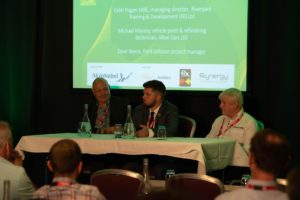 he challenges and opportunities faced by the industry.
Dave suggested the UK industry 'forgot about the future', whilst Colin highlighted the problem of attracting young people to the sector was two-fold: the focus on academic study and the stigma still attached to apprenticeships.
Providing an alternative perspective, Michael described how there are young people out there who have the skills and right mindset to excel. 'Colleges and training providers can set you up so far but you've got to also gain real life experience because it can be challenging at times,' said Michael who explained how his employers Alton Cars now have some 40 apprentices on their books.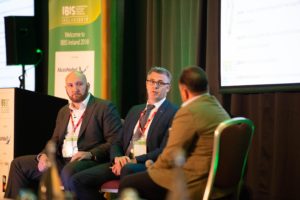 The new ABI code of practice in relation to the management of salvage was proposed as 'worthy of a conversation' at IBIS Ireland 2018.
With the Irish salvage market still, in many cases, operating the 'old' code of practice, the session highlighted the potential benefits of the ABI code and how it could ensure salvage decisions were based more on structural integrity of the vehicle rather than financial metrics of repair.
Explaining the new code and its workings, Darren Power, motor claims subject matter expert, IAEA highlighted how the new code potentially provides more 'accountability and transparency' to the system.
Alongside Darren, Justin Kavanagh, managing director of VMS highlighted how online salvage and auction systems are helping to provide compliant, transparent processes for the benefit of all stakeholders. 'By analysing the data within these systems it can benefit all stakeholders within the industry,' said Darren.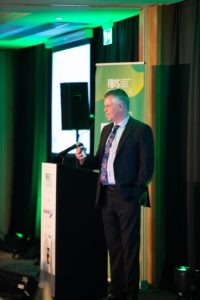 Understanding local culture is a vital ingredient to success even in the highly advanced claims market of today. That was the message to emanate from Morgan Stewart, chief motor engineer/claims supply chain manager, RSA Ireland.
With 50 approved repairers throughout the country – mostly independent sites – Morgan explained how the culture in Ireland is such that 'people like to deal with people they know – that's why we have a really high conversion rate.'
Highlighting the insurer's focus on technological advancements, Morgan pointed to RSA's involvement in the Gateway, autonomous transport, project. Morgan said, 'Our involvement is giving us great insight into how autonomous transport could become part of our customers' lives and we can adapt our services and products for the future.'
In closing, he said, 'One thing for certain within this industry right now, is that nothing is certain.'
IBIS Ireland 2018 was supported by lead partner AkzoNobel, along with partners Audatex, Fix Auto and Synergy.