New Virtual Reality Welding Software Takes Training to the Next Level – WeldVR Launch Only at IBIS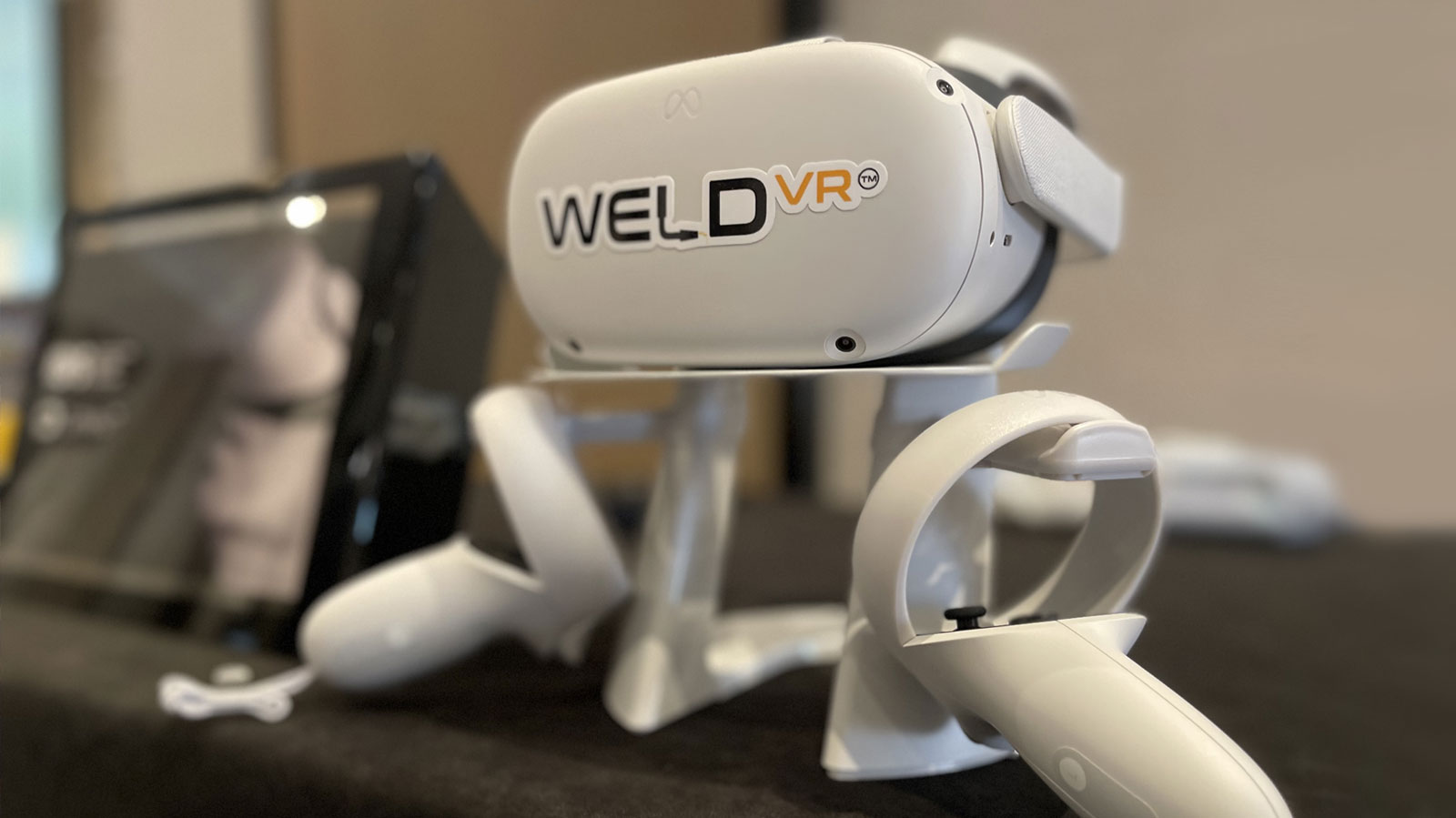 May 11, 2023
Posted by:

Salih Tahir

Categories:

IBIS News, Press Releases
Cythero, a leading provider of virtual reality training solutions for the collision and automotive repair industry, is proud to announce the release of its latest product – virtual reality welding software launched at IBIS USA in Nashville.
The product launch was huge at the IBIS USA event, with the Cythero stand featuring two VR simulators being occupied for the duration as delegates experienced the power of VR welding.
This cutting-edge software allows trainees to practice their welding skills in a safe and controlled virtual environment, using realistic simulations of welding equipment and scenarios. With the ability to customise the software to match specific welding techniques and equipment, trainees can gain practical experience that would otherwise be challenging or costly to obtain.
The virtual reality welding software also features interactive tutorials and real-time feedback, allowing trainees to learn at their own pace and receive instant guidance on how to improve their technique.
"We're excited to offer this revolutionary training tool to our customers," said Nikola Rendevski, CEO of Cythero. "With virtual reality technology, we can provide an immersive and engaging training experience that better prepares welders for real-world challenges. This software is a game-changer for the welding industry."
The welding software is compatible with the Oculus virtual reality headsets with admin access available on desktop computers and laptops. It is ideal for both new welders looking to gain hands-on experience and experienced welders seeking to refine their skills.
Jason Moseley, CEO of IBIS said: "We are proud to partner with Cythero and bring to our industry a new innovative training solution that will assist in the current skills shortage challenge the industry is facing. IBIS is the perfect platform to showcase this new technology that will benefit the industry."
Cythero also gave away close to $4000 of software at the event to four winners who were lucky enough to win the end-of-event draw.
Cythero, working with its partners, is committed to providing the most advanced training solutions for the industrial sector. To learn more about the virtual reality welding software and other training solutions, visit www.cythero.com or contact Diana Trajcevska, Executive Director.
---
About Cythero
Cythero is a leading provider of industrial training solutions, specialising in virtual reality and interactive training tools. With a focus on safety and efficiency, Cythero helps companies train their employees to perform at the highest level while minimising risk.
About IBIS Worldwide
Since the first IBIS conference in 2001, the International Bodyshop Industry Symposium (IBIS) has become firmly established as the leading global conference and networking provider for automotive collision repair industry leaders and influencers.
The inaugural conference was held at the Celtic Manor Resort in Wales and hosted 120 delegates from 12 countries. Since then, IBIS events have been held at venues on five continents, reaching more than a thousand influencers each year, with the Global Summit annually attracting more than 350 delegates from around 30 countries.
IBIS continues to spread its world-class conferencing in new territories and has recently visited markets across the globe including Ireland, USA, India, South Africa, China, Brazil, Mexico, the Middle East and Turkey.
---
For general press enquiries please contact:
Simon Wait, Head of Editorial, IBIS Worldwide and bodyshop magazine
t: 01296 642836   m: 07936 902142   e: [email protected]
For future partnership enquiries please contact:
Suzie Scott, Head of Sales, IBIS Worldwide and bodyshop magazine
m: 07545 068455   e: [email protected]