IBIS Africa 2019 announces theme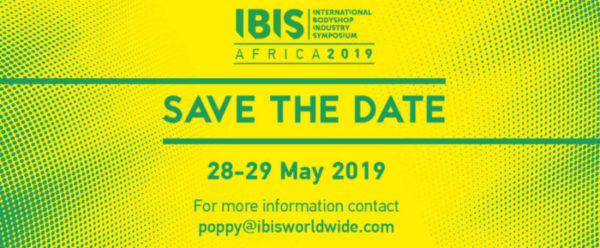 January 25, 2019
Posted by:

Salih Tahir

Category:

IBIS News
IBIS is excited to announce the theme for its premier event in South Africa: Innovation & Integration.
Taking place on the 28 – 29 May at the Emperors Palace Hotel, Johannesburg, IBIS believes that the theme emphasises and encapsulates the current African market. Topics on the agenda for this day and a half symposium will be released soon, visit the website – www.ibisworldwide.com to keep up to date with all the event news.
IBIS is also very proud to announce its media partnership with Automotive Refinisher magazine. Automotive Refinisher has long been associated with the IBIS brand, editor, Claire Macfie, commented, 'Automotive Refinisher magazine, a collision repair specific magazine specialising in the South African and sub-Saharan markets, is happy to join hands once again with IBIS to promote and facilitate the IBIS Africa conference. The publication has been media partners with IBIS for two decades and have covered stories in the UK, Spain, Greece, Las Vegas and many more.
'As we are closely linked with what happens in Europe and the rest of the world as regards to our top bodyshops and the brands and products that are needed to maintain warranties, it will be beneficial to see where this path is currently leading. That said, I'm sure there are also many things to be learnt from our dynamic and ever-changing market in South Africa that the international speakers and organisers will find interesting and as well as informative on ways of doing things differently.'
The symposium will consist of circa 150 international representatives from the collision repair industry, market leaders and influencers. Further details of the event will be announced in the coming weeks on IBIS' social media channels and website. In the meantime, to find out more please contact Poppy Allard; email [email protected]
Headline partners