Axalta Refinish launches its Axalta Academy globally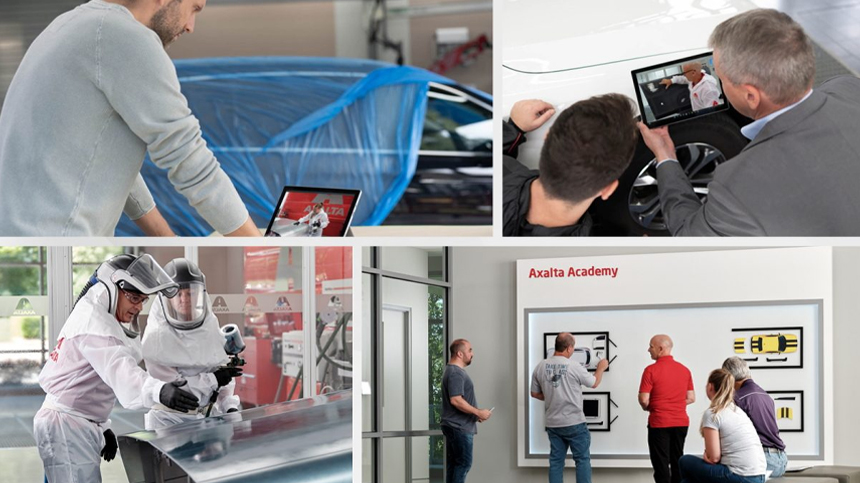 September 9, 2023
Posted by:

Salih Tahir

Categories:

IBIS News, Press Releases
Axalta Refinish launches its Axalta Academy globally – training that fits the way a bodyshop works
1 SEPTEMBER  2023 – The Axalta Academy, a state-of-the-art global training platform for refinish professionals, is launching globally in 15 languages to empower refinishers to maintain and to improve their specialised competencies with top-class training. The platform adjusts to the way in which they work, and is backed by Axalta's unrivalled, industry-leading expertise.  
Jason Hopkins, UK Country Manager Axalta, says: "The Axalta Academy has been designed with our customers in mind. It puts them in a different class. We're sharing knowledge about cutting-edge, digital tools and application techniques, as well as demonstrating how we're championing innovation and continuous training. With three distinct ways in which to consume this best practice, the Axalta Academy is flexible, convenient and effective, which is exactly what busy, ambitious and aspiring bodyshops need. We easily align information to a bodyshop's training requirements. The Axalta Academy is also a perfect resource for apprentices." 
The Axalta Academy resources have been thoughtfully packaged, depending on the user: Apprentice, Painter, Bodyshop Manager or Bodyshop Owner. Each has its own content, tailored specifically for each one's individual goals: whether that's kick-starting a refinishing career with the basics for apprentices; keeping up with the latest products and techniques for painters; supporting processes and maximising earning potential for bodyshops managers; or boosting productivity and maintaining the competitive edge for bodyshops owners.  
For maximum flexibility, the Axalta Academy has different training streams on its online platform through which best practice knowledge can be delivered. Once registered, users simply create their profile and then have a choice of three types of training based on their requirements: face-to-face, live virtual or e-learning.  
Highly-experienced Axalta instructors lead all face-to-face training courses, which are held at the world-class Axalta training facilities across the world. These hands-on sessions provide both theoretical and practical aspects of every step of the refinishing process. Users have access to country-specific calendars where they can apply for different courses.  
These live-stream technical training events come direct from the Axalta training facilities around the world. They deliver customised distance learning that saves the time and cost of travel as well as time out of the bodyshop. A calendar of country-specific live events shows what's available – refinishers simply click a link and register. Participants also have the opportunity to ask questions and interact with the trainer.  
The e-Learning material in the Axalta Academy includes a library of interactive instructional content on topics from digital colour matching and plastic repair to special finishes and basecoat systems. This library will be continuously added to.
Hopkins concludes, "The Axalta Academy is a one-stop-shop for all refinish training needs, whether that is improving skills or increasing productivity. It will ensure you get the most value out of the paint products you use."
Axalta Academy is fully accessible and optimised for Android and iOS and can be accessed via a PC, laptop, tablet or smartphone. The platform is available in English, as well as a further 14 languages, which will be launched throughout Q2 and Q3 2023 – Chinese, Dutch, French, German, Indonesian, Italian, Japanese, Korean, Polish, Portuguese, Spanish and Swedish, Thai and Vietnamese.
---
About Axalta Refinish
Axalta Refinish – part of Axalta, a global leader in the coatings industry – is a valued, reliable global paint repair partner to our customers, who demand nothing short of total customer satisfaction. We give them confidence in our fast, efficient, high-quality coating technologies and integrated digital business processes, making the entire paint repair journey faster, easier and more profitable. With more than 150 years of experience in the coatings industry, our dedication to innovation and our constantly developing technology means we offer our customers an unlimited colour choice for perfect colour matches. Most importantly, we work tirelessly to anticipate our customers' needs so they can address the challenges they face every day. We have an impressive portfolio of brands for every bodyshop requirement, for every segment of the market, and for every level of market maturity. For more information visit refinish.axalta.eu and follow us on LinkedIn.
---
About IBIS
Since the first IBIS conference in 2001, the International Bodyshop Industry Symposium (IBIS) has become firmly established as the leading global conference and networking provider for automotive collision repair industry leaders and influencers.
The inaugural conference was held at the Celtic Manor Resort in Wales and hosted 120 delegates from 12 countries. Since then, IBIS events have been held at venues on five continents, reaching more than a thousand influencers each year, with the Global Summit annually attracting more than 350 delegates from around 30 countries.
IBIS continues to spread its world-class conferencing in new territories and has recently visited markets across the globe including Ireland, USA, India, South Africa, China, Brazil, Mexico, the Middle East and Turkey.