Fareed Lutfi joins IBIS Middle East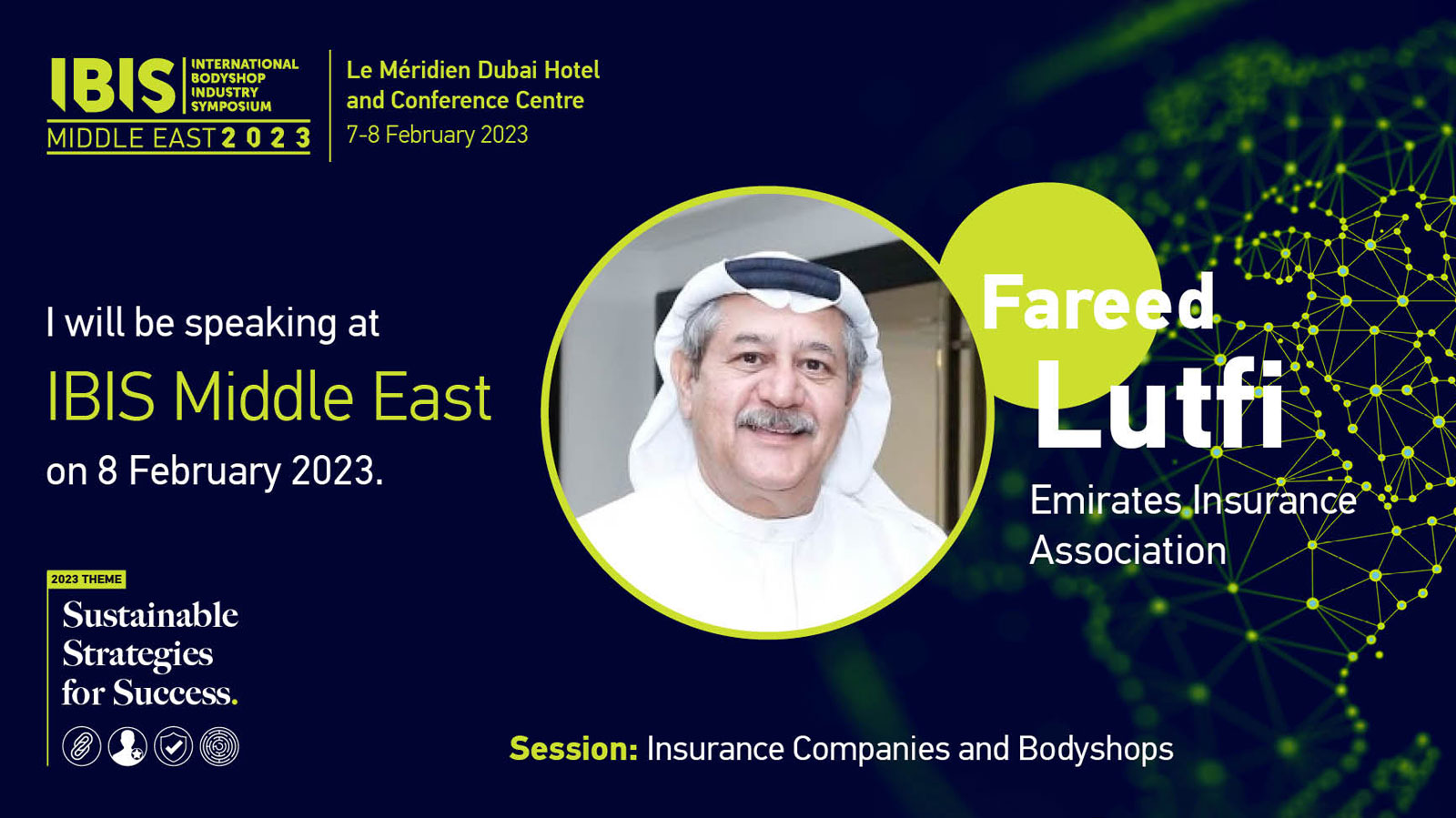 February 2, 2023
Posted by:

Salih Tahir

Categories:

IBIS News, Press Releases
The International Bodyshop Industry Symposium (IBIS) is excited to announce that Fareed Lutfi, Secretary-General, Emirates Insurance Association, will join IBIS Middle East 2023 as a speaker.
Being the first IBIS event under the 2023 theme "Sustainable Strategies for Success", IBIS Middle East 2023 will seek answers to key questions about the present and future of the automotive collision repair industry, placing emphasis on approaches that can secure sustainable solutions to challenges encountered along the way. More information about IBIS Middle East 2023 can be found at https://ibisworldwide.com/ibis-middle-east-2023/.
Mr Lutfi is the Secretary-General of the Emirates Insurance Association and the Gulf Insurance Federation. He was a board member of Quilter International Middle East at DIFC until August 2022, a board member of National Health Insurance Company-Daman and General Manager and Executive Adviser of Marsh Emirates Consultancy in the UAE. He has served as an executive board member and on advisory committees of insurance and reinsurance entities in Bahrain, Kuwait, Oman, Turkey, the UAE, and DIFC. He was Group Director, Insurance Services for Dubai Holdings. Previously, he was the Director and CEO of Alliance Insurance, General Manager of Dubai Islamic Insurance and Reinsurance Company, and Board Member of DIFC. Mr Lutfi's full bio can be read at https://ibisworldwide.com/speaker/fareed-lutfi/.
Mr. Lutfi will be speaking in the session titled "Insurance companies and bodyshops" which will focus on the opportunities and remaining barriers in a time when digitisation, low touch, remote claims processes, self-serve apps, AI and more are bringing a new level of trust, transparency, automation, and a prerequisite for us all to collaborate with each other. Full event agenda can be seen at https://ibisworldwide.com/ibis-middle-east-2023/agenda/.
About having Fareed Lutfi as a speaker at the first IBIS conference of 2023, IBIS moderator Robert Snook said: "As one of the most pioneering and respected leaders in our industry it will be an honour and a pleasure to share the IBIS stage with Mr Fareed. The audience will warmly welcome his invaluable insights on how we can collaborate better to implement sustainable strategies for success in order to achieve our shared goal – to provide a world class customer experience."
Visit www.ibisworldwide.com or subscribe to our LinkedIn and Twitter feeds (@IBISworldwide) to stay up to date about all IBIS conferences.
If you are interested in attending IBIS Middle East 2023 or becoming one of our IBIS Middle East partners, please contact head of sales Suzie Scott at [email protected].
Please contact Emily Miles at [email protected] for all enquiries.
---
Notes for editors
Since the first IBIS conference in 2001, the International Bodyshop Industry Symposium (IBIS) has become firmly established as the leading global conference and networking provider for automotive collision repair industry leaders and influencers.
The inaugural conference was held at the Celtic Manor Resort in Wales and hosted 120 delegates from 12 countries. Since then, IBIS events have been held at venues on five continents, reaching more than a thousand influencers each year, with the Global Summit annually attracting more than 350 delegates from around 30 countries.
IBIS continues to spread its world-class conferencing in new territories and has recently visited markets across the globe including Ireland, USA, India, South Africa, China, Brazil, Mexico, the Middle East and Turkey.
---
For general press enquiries please contact:
Simon Wait, Head of Editorial, IBIS Worldwide and bodyshop magazine
t: 01296 642836   m: 07936 902142   e: [email protected]
For future partnership enquiries please contact:
Suzie Scott, Head of Sales, IBIS Worldwide and bodyshop magazine
m: 07545 068455   e: [email protected]