Steve Miller Appointed as IBIS Ambassador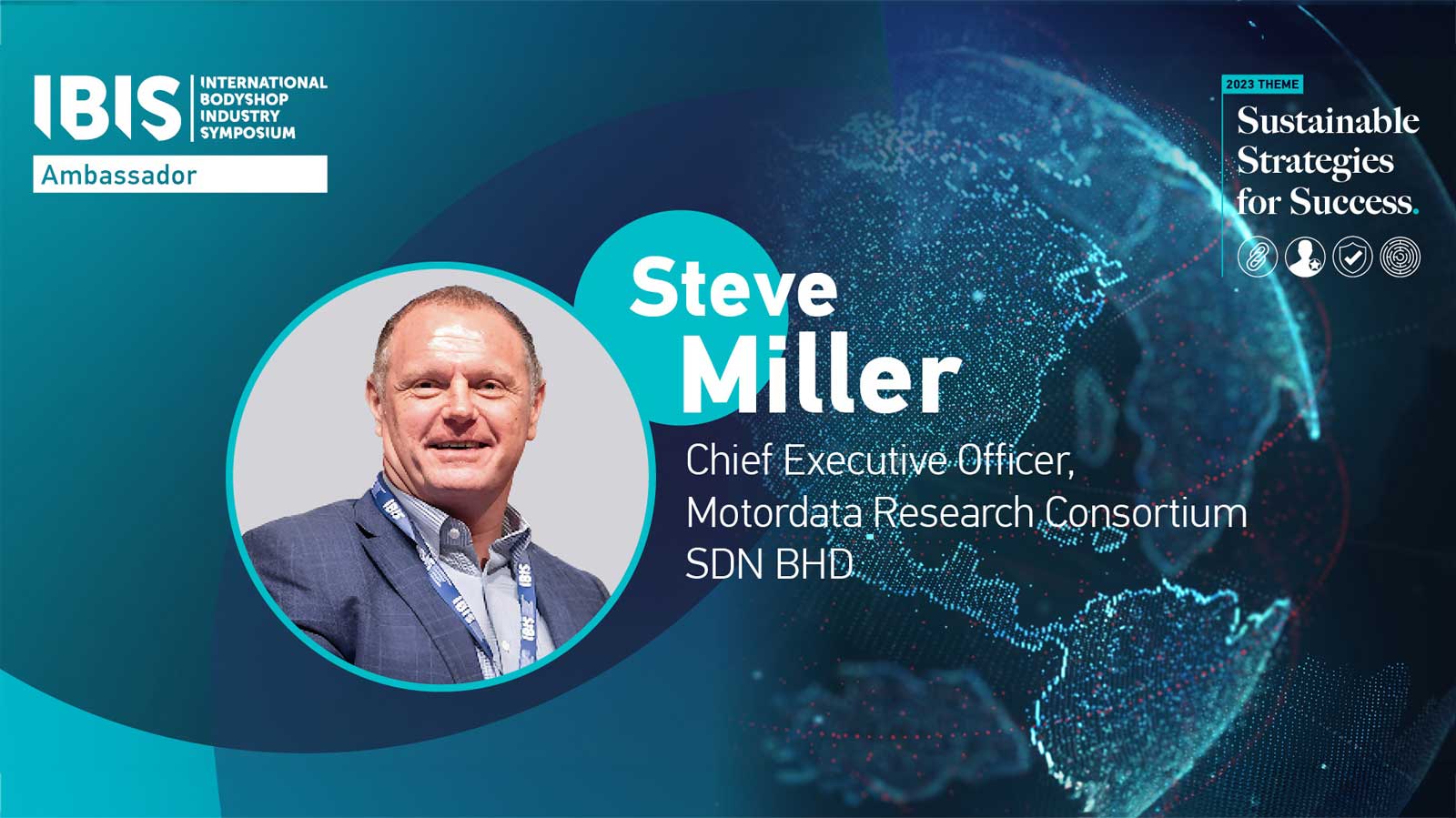 August 29, 2023
Posted by:

Salih Tahir

Category:

IBIS Newsletter
The International Bodyshop Industry Symposium (IBIS) is delighted to announce the appointment of Steve Miller as a global IBIS Ambassador specialising in the ASEAN region, signalling a new era of technological progress and innovation within the automotive repair industry. With over 25 years of experience in spearheading technology adoption among vehicle repairers and motor insurers, Steve's expertise adds invaluable depth to the esteemed group of IBIS Ambassadors.
The IBIS Ambassadors programme is a collaboration between IBIS Worldwide and some of the global automotive collision repair industry's most respected and recognised experts to bring the freshest, most innovative thought leadership content and expertise to audiences at each conference. More information about the programme can be found at https://ibisworldwide.com/ibis-ambassador-programme/. An updated line-up of all current IBIS Ambassadors can be seen at https://ibisworldwide.com/ibis-ambassador-programme/ibis-ambassadors/.
Steve Miller's journey in the automotive industry began in the UK, where he played a pivotal role in introducing cutting-edge vehicle repair times and methods to repairers on behalf of a major UK insurer. His dedication to driving positive change and advancing the use of bodyshop management technology led him to relocate to Malaysia. There, he successfully implemented similar transformational projects, collaborating with regulators and stakeholders to advocate for data standardisation and the establishment of an accreditation program for motor insurance repair. By emphasising quality and safety for Malaysian drivers, Steve has been instrumental in uplifting the standards of the automotive repair sector.
As the Chief Executive Officer of Motordata Research Consortium Sdn Bhd, Steve continues to be a driving force behind the adoption of advanced technologies in the industry. His company focuses on empowering vehicle repairers with innovative management software, streamlining processes, and encouraging greater efficiency.
Expressing his enthusiasm for joining the IBIS Ambassador programme, Steve Miller said, "It is a real honour and privilege to be invited to be part of the IBIS family. Being part of this industry's development for over 20 years in Malaysia and the rest of ASEAN, I hope to add value and experience to the IBIS team as it continues to expand in the region and beyond".
Jason Moseley, CEO of IBIS Worldwide, expressed his delight at Steve Miller's appointment, stating, "having known Steve for many years and recently worked more closely together again on our IBIS ASEAN event, it is clear that he has the clarity of thought and strategic mind to bring value to the IBIS agenda. His very pragmatic approach and knowledge, especially around repair data and training will be a phenomenal asset to IBIS's global growth plans and perfect fit as an Ambassador".
IBIS Worldwide remains dedicated to fostering a successful and sustainable future for the automotive collision repair industry by collaborating with industry experts like Steve Miller. To stay updated on IBIS Ambassadors and upcoming conferences, visit www.ibisworldwide.com or follow IBIS Worldwide on LinkedIn and Twitter (@IBISworldwide).
If you are interested in attending or sponsoring an IBIS event, please contact IBIS Head of Sales Suzie Scott at [email protected].